Donald Trump, King of Digital Marketing?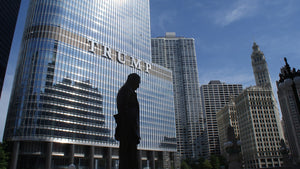 Note: this is NOT a political post, but rather commentary specifically about Donald Trump's marketing campaign strategy and the success thereof.
A lot of information has come out recently about Donald Trump's campaign marketing strategy, which is extremely interesting in its own right, and especially so for marketing professionals.
As per one of the shorter articles on the topic: "by mid-October, Trump had spent less than 50% per electoral vote vs. Clinton. Moreover, Trump spent fractions in traditional media not only vs. Clinton but also other recent nominees (10% vs. Obama and 16% vs. Romney)."
His campaign vastly under-spent previous campaigns in traditional media, and used incredibly focused digital media to reach potential voters.
"The winning framework approach rests on customer-centric profiling. By ignoring traditional profiling approaches of race and gender (for example) and rather, by identifying human-centric factors and motivators, "Trump's team tested 175,000 different [digital] ad variations in order to find the right versions…in order to target the recipients in the optimal psychological way."
If you're interested in exactly how his campaign did so, you can read this much longer article on the topic.
You can also find out an incredible amount about yourself with this interesting test that utilizes the kind of data that helped Trump's campaign target digital ads.
(Yes, you're technically giving the world another data point on you, but let's be real, they have it already. And what's wrong with targeted ads? Are you a digital marketer or what???)
Donald Trump did make a somewhat cryptic remark in response to whether the popular vote should be favored over the electoral college when he said (paraphrasing) "I would have won the popular vote also if the election were based off of that" which makes more sense in light of the recent information about his campaign strategy.
Suffice to say, while Obama was once touted as the king of digital and social media, regardless of your political affiliation, it seems fair to say that crown has been passed to Trump along with the 45th presidency of the United States.
2 Responses
Leave a comment